The receipt of the newly built catamaran "Aero 2 Highspeed" that was built at the Brødrene Aa shipyards in Norway, was announced by "Attica Group", a member of the Marfin Investment Group.
The "Aero 2 Highspeed" is the second of an order for three state-of-the-art Aero Catamarans, which will be launched on Saronic Gulf routes, replacing the Group's older technology ships in the specific destinations. With their launch, the transport capacity for the destinations of the Saronic Gulf will increase, thus creating the conditions for the further economic development of the islands and the local communities.
The ship has a maximum speed of 32.2 knots at full load, a total length of 36 meters, a width of 9.7 meters and a carrying capacity of 150 passengers, while its interior layout and innovative design in general aims to offer the passenger a high level of comfort and services.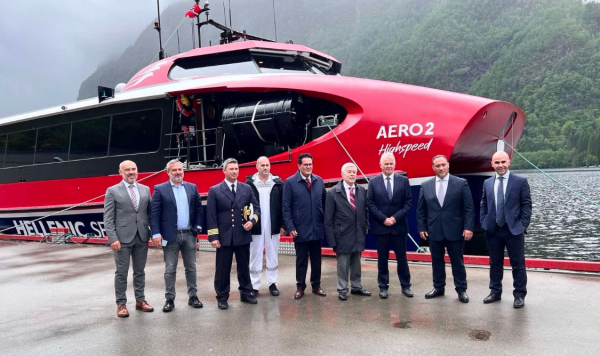 The total cost of the investment amounts to 21 million euros and will be covered by equity and bank lending.
Attica Group is active in passenger shipping through Superfast Ferries, Blue Star Ferries, Hellenic Seaways and Africa Morocco Link, with a total of 34 ships offering transport services in Greece and abroad. The ships of its fleet travel to 60 destinations in 4 countries, approaching 71 ports, carrying more than 7 million passengers, 1 million private cars and 400,000 trucks annually.